Experience our Los Angeles store at Platform in Culver City – Open MON - SAT 11am to 6pm
Find something unexpected
Your cart is currently empty.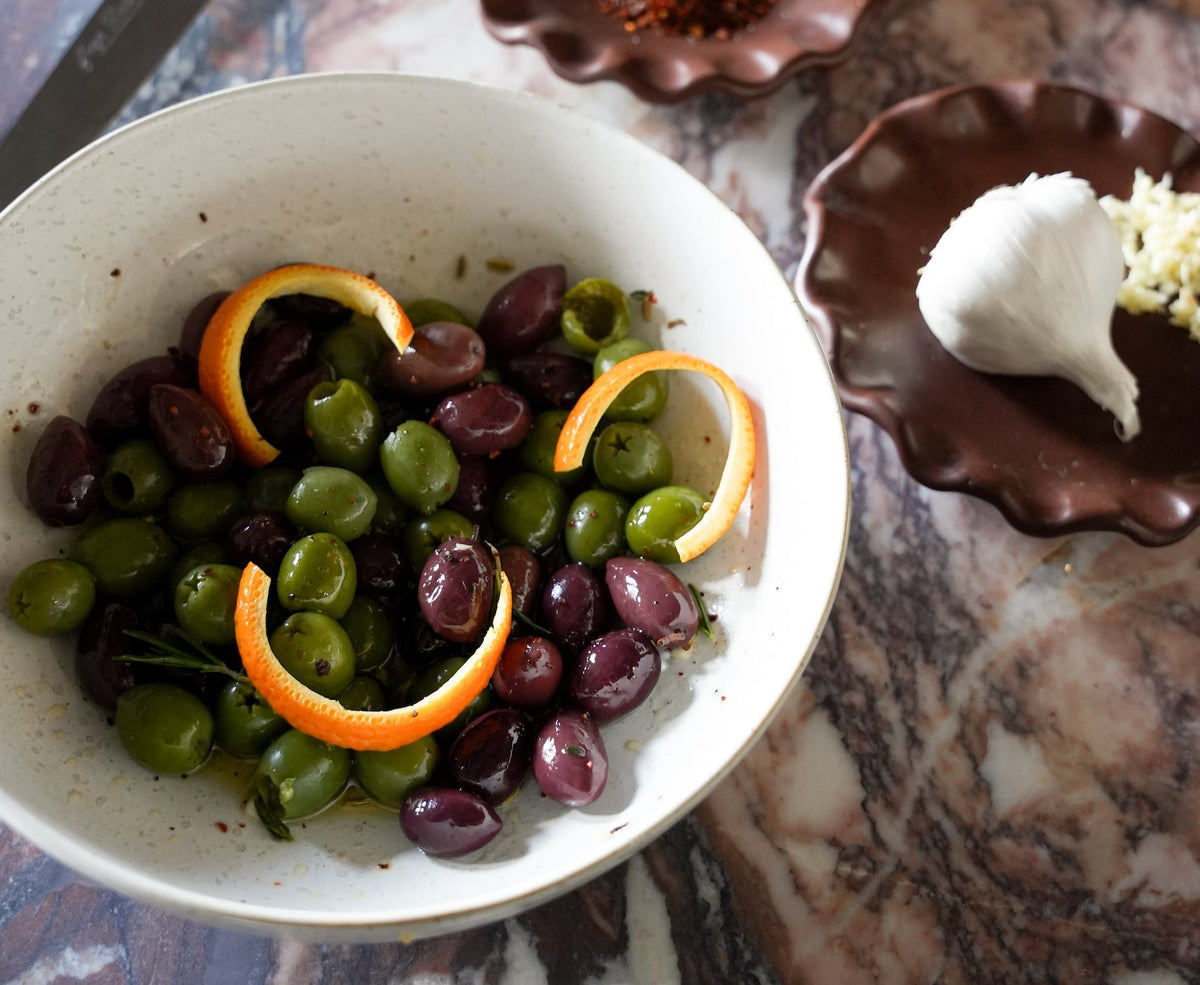 MARINATED OLIVES À LA INA GARTEN
ATRIO APERITIVO
Jeremiah Brent and the Atrio team share their go-to drinks and bites, reminiscent of relaxing weekends at home with friends or family vacations in Portugal. Our favorites are often inspired by recipes from the pros and credited where appropriate. Bom proveito!
One of Jeremiah's go-to appetizers for cocktail hour is this riff on Ina Garten's marinated olives. You likely have most of the ingredients in your pantry—just add fresh citrus and herbs. It's so simple it almost doesn't require a recipe. 
Ingredients
1 cup of green olives
1 cup of black olives
A few cloves of garlic
The zest of one orange
¼

 

teaspoon

 

salt (or more to taste)

¼

 

teaspoon

 pepper

 (or more to taste)

¼

 

teaspoon red pepper flakes 

(or more to taste)
A few teaspoons of good olive oil
A few sprigs of fresh herbs, like thyme or rosemary
Directions
Step 1
Drain and rinse the olives. Place them in a large mixing bowl and set aside. 
Step 2
Zest one orange and crush a few cloves of garlic. Add the zest and crushed cloves to the bowl with the olives, along with the red pepper, salt, and pepper. 
Step 3
Prepare the herbs, removing stems and roughly chopping the leaves. Add the herbs to the mixture, drizzle the mixture with olive oil, and toss to combine.
Step 4
Finally, heat the mixture on medium for 5 minutes to infuse all of the flavors. Enjoy!